The Abraham Lake album below is a designated old-growth forest, the Acadian Forests album is a collections of diverse forests while the Mushrooms album shows the variety of ground species that can be found in the moist Acadian Forests near the Atlantic Coast.
The Acadian Forest covers the Eastern Townships and Beauce regions of Quebec, approximately 50 percent of New Brunswick, most of Nova Scotia, northwestern Massachusetts and extreme northwestern Connecticut, and all but the southwestern corner of Maine, the Champlain Valley of Vermont and the coastal plain of New Hampshire. All of this area is hilly to mountainous with the highest elevations occurring in the White Mountains of New Hampshire.
(source: World Wildlife Fund)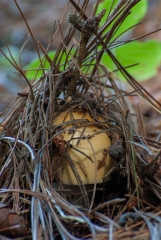 After a rain in August numerous mushroom varieties emerge from the ground. Within one to two days they can be seen in full bloom. The forests surrounding the Molega Lake area are well suited to mushroom growth. Most of the mushrooms here where photographed on a piece of property less than an acre in size.