---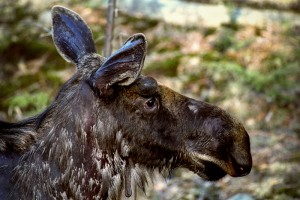 While I enjoy the active search for animals in their natural habitat, I often feel that it is the animal that decides whether or not it will permit me to take the photograph. On the occasions when this happens I feel privileged to be given such an opportunity.
In locations not frequented by people animals are often less afraid and do not take flight as quickly. Sometimes, as in the case of the moose photographs, they have shown their curiosity and have come to investigate me. These are the precious moments where I feel honoured to make even this momentary connection.
There is always risk involved with being close to animals in the wild. When I was photographing four young skunks at close range, I had just read that they cannot spray their scent until they are about four weeks old. Luckily for me, when one turned around and raised its tail in a defensive effort, it was unsuccessful.